Welcome to Habitat Plants 
                  Tasmanian Native Plants Nursery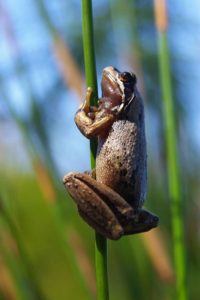 We specialise in plants for the creatures of Tasmania
At Habitat Plants we are passionate about growing Tasmanian native plants. Like our customers we love to be amongst them and we love the idea that as we grow and care for the plants we are enhancing our own habitat: a habitat we share with mammals, birds, reptiles and invertebrates.
At Habitat Plants we grow for any situation where original Tasmanian vegetation is needed.
Habitat Plants is owned and operated by Sally and Herbert Staubmann. Our nursery and home are nestled in native bushland, beneath the spectacular backdrop of Drys Bluff in the Great Western Tiers.
Habitat Plants was born in the late 1980s when our landscape contracting business experienced a need for local indigenous plants.  
In 2002 we opened a small retail nursery in response to an increasing public awareness and appreciation of Tasmania's unique flora. After 21 years, on November 25th 2022 we closed to the public and are now focusing on contract growing.
Carving our nursery into the bush has given us the rare opportunity to blend our commercial nursery operation with the Tasmanian bush and its wildlife. This provides a unique foundation for our IPM (Integrated Pest Management) program, allowing us to produce plants of very high quality with a minimum of pesticide use.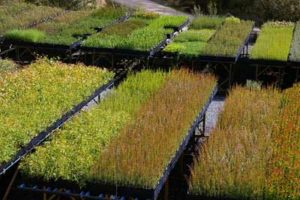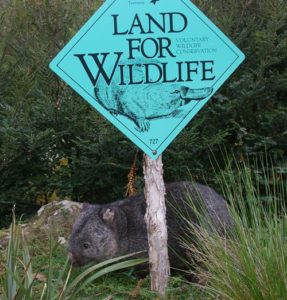 Our plants grow on benches on unfenced terraces, giving grazing wildlife unrestricted access to help maintain the grassy sections. In the evenings wombats rule the grounds. 
Rushes and sedges dominate our stormwater drains, providing great habitat for frogs who find their way onto our plants – feeding on insects.
Dense thickets of regenerating vegetation between our terraces provide breeding habitat for many small birds. Clans of Blue Wrens move across our tubestock benches in search of tiny insects. They have to share with Pardelotes, Fantails, Robins and many others. 
All our plants are propagated on site. Growing-on and hardening-off take place in our harsh outdoor environment. 
The results speak for themselves, and we are very proud that the quality of our plants is second to none.
                                             RETAIL NUSERY NOW CLOSED ( 25th November 2022)